August 30, 2018 - 5:18PM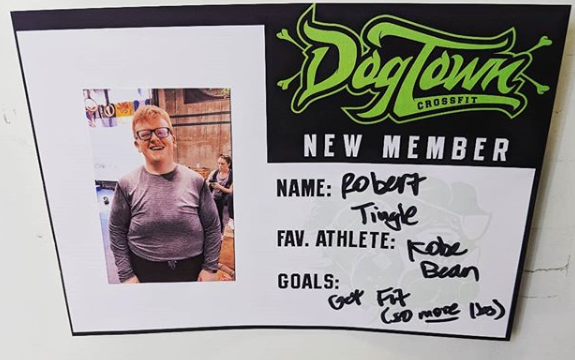 Robert blew me away meeting him after his intro class. He told me his weight loss story and I was stunned. I have worked with people, many who also had significant weight loss, but I had never before that day come across the mindset he brought entering the gym.
I told him after On Ramp ended that he should start with a Gold Membership and when he earned it, he could move to PLATINUM. Like clockwork, in two months' time, he wanted to move to Platinum.
To this day, Robert shows up early to mobilize, works on stabilizing his shoulders and quietly out works everyone around him. Has he had bad workouts? He will tell you yes. (But haven't we all?) Did he dislocate his shoulder during OHS? Yup. He then spent two weeks working on strengthening it with CrossOver Symmetry, and never once did he take a day off. How many of us when injured try to just push through it or not get to the source of the problem? It takes a strong work ethic like Robert's to put ego aside and get back to basics.
My belief in him is absolute because that is how he shows up every day. He works hard and trusts the process.
Leaders are born out of mindset, and then deliberate action. Next time you see him in the gym say hi, but don't distract him lol. He gets better and better every day. Robert gets in the zone and stays in his lane focusing on his progress. Finishing first is not his goal. Getting stronger and more proficient is. He is a great reminder to pay attention to what people are doing and less to what they are saying.
Proud Coach.
Dusty
Q: Well first, congratulations are in order! You have been working so hard and have the pounds coming off to show for it. You are so inspiring to so many of us. Can you tell us what lead you into DogTown?A:
I had been losing weight dieting and exercising at LA fitness for almost two years. I was 500 pounds at my heaviest and got down to 300 pounds when I had joined DogTown in April 2018. But I realized that I was reaching the limits of how well I could train myself. I thrive in an environment with coaches and peers who push me to do my best. Around that time, I had stumbled on some CrossFit Games videos on YouTube and was hooked. I knew I wanted to do CrossFit. I searched Yelp for the highest rated box nearby and found DogTown.
Q: What was your first session at CrossFit like?A:
I remember showing up really early to the class because I was super excited to be there. Jeremiah coached my intro class with two other people. I struggled with the body weight exercises – turns out, it's difficult to do push-ups and pull-ups carrying around extra baggage. But I stuck with it on the scaled versions. I finished the workout several minutes after the other two people, but I was okay with that. I pushed myself and did the best I could. Exhausted and with soreness setting in, I knew this was where I wanted to be.
Q: What have been the most surprising changes in yourself that you have experienced since starting at DogTown?A:
The biggest change for me has been my cardio. I used to despise running, but recently I have enjoyed going for long runs around the neighborhood to clear my head. I have easily PR'd my mile time by a longshot.
Q: CrossFit really gets us ready for anything and it opens so many doors to try things we may not have done before. Have you taken on anything new with the help of CrossFit?A:
I started hiking recently, something I never thought I would be able to do since I had been so big for so long! But doing a hike is easy compared to what we do in CrossFit!
Q: What are your favorite movements and workouts and what are your least favorite?A:
My favorites are definitely the lifts where you move lots of weight (deadlift, back squat, power clean) because that's where I am comfortable and it's what I do best. I have been surprised to find that I also really enjoy the sessions which work on progressing with various skill movements. My least favorite is burpees, by far. But who likes those anyways?

Q: What has been one of your fondest accomplishments at DT?A:
It would be easy to point to any of the various improvements I have made on 1RM's, workout times, or skill progression.
But the real answer is my improvement in attitude. During one workout, Dusty noticed that I had the look of death on my face. After the class, he pulled me aside, and he told me not to feel bad for myself. I realized in self-reflection that this was a poor attitude I carried over from high school football. It was a façade aimed at getting sympathy from others for being the big guy who has to struggle through tough workouts. But Dusty reminded me that everyone in the class is going through the same pain I am. Additionally, I really enjoy CrossFit, so why not let my face show it too? I have to catch myself when my face naturally tends to scrunch up, but I am trying to have fun with the workouts, and push through them, not just going through the motions.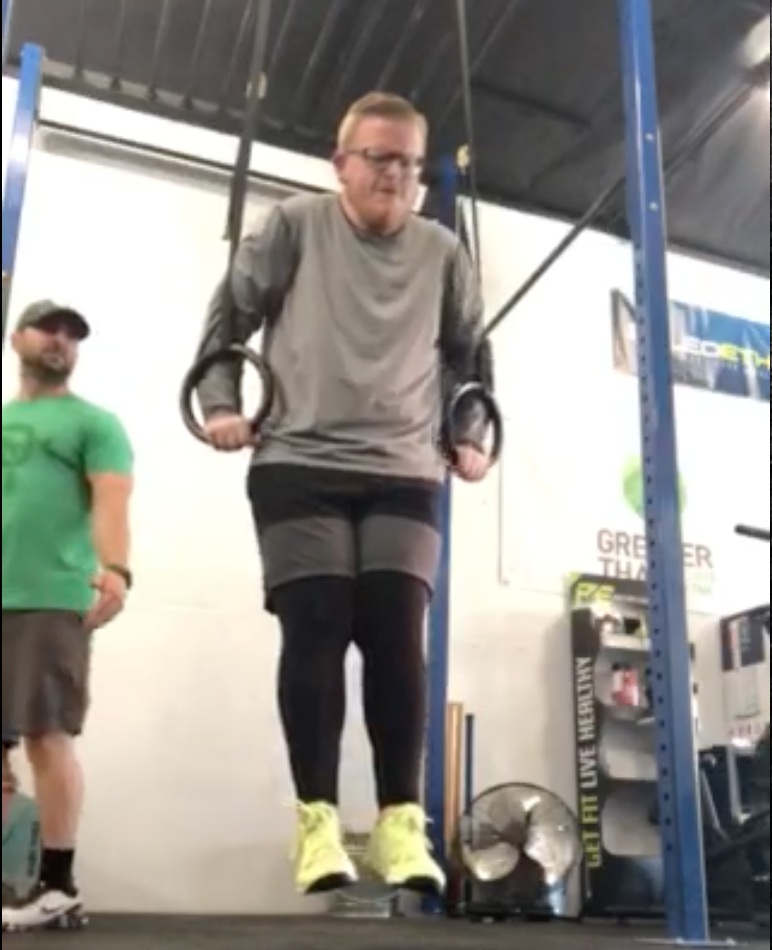 Q: What are your health and fitness goals?A:
I would like to keep losing weight and progress to Rx CrossFit movements. I would love to be able to get all the way down to 200 pounds (on pace for some time next year!). Most importantly, my goal is to just have fun, and not get consumed with trying to be the fittest, the fastest, or the strongest. I would also like more opportunities to be a help to those in my church who struggle with the same spiritual issues I struggled with pertaining to being significantly overweight.

Q: What advice can you give to a newbie at DT?A:
My first piece of advice would be to not compare yourself to others. It's easy to do, but actually is the enemy of your improvement in CrossFit. Check your ego at the door and get to work improving your strength and conditioning. Which leads me to my second piece of advice: compare yourself to yourself! Buy a notebook and record your workouts each day. When I flip through the workouts in my notebook over the last four months, I am encouraged to see the rewards of all my efforts.

Q: What do you do outside of the box?A:
I work for Northrop Grumman Aerospace Systems in Redondo Beach as an engineer. I recently reduced my hours at work to part-time, so I could spend more time at school. I am currently studying at The Master's Seminary (Sun Valley, CA), pursuing a Master of Divinity. Life is busy for me right now with work and studying, as I also spend a lot of time serving at my church. With these studies, I hope to someday do bi-vocational ministry or become a Pastor of a church somewhere in the United States.

Q: What 2 things can you share with your DogTown family that we might not know about you?A:
The first thing would be that I cannot take credit for the weight loss progress I have made. I am persuaded that it is a work of God in my life to produce discipline and self-control. My effort involved is secondary to the overwhelming grace God has shown me over the last 3 years, and to Him alone belongs the praise and glory.
The second thing would be that I am very grateful for each and every one of my fellow DogTown athletes and coaches who are examples to me of hard work and encourages me to do my best. It's what helps keep me going.