Grace is an understated badass of the morning crew. She comes in consistently on time for 6:30 AM classes. She works her butt off, moves weight, pushes hard and rarely complains about the workouts. In her thirties, Grace quietly works the program by showing up and putting the effort in. Without even knowing it, she often sets the bar for many of the women that come in to the later classes as a goal on the white board to aspire to. She does not even see that at all, which is what is so special.

Thanks,
Coach Dusty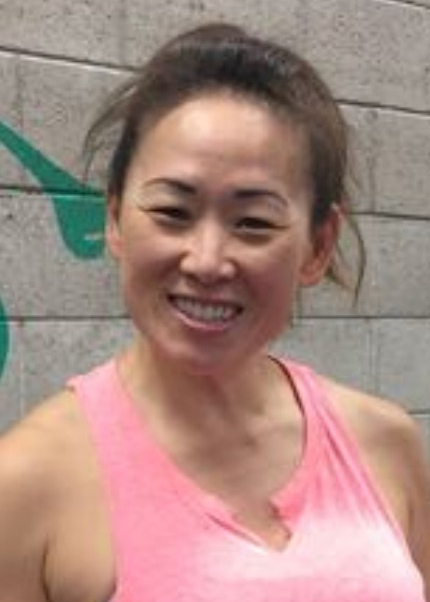 Q: What was your fitness like before CrossFit?
A:
Prior to having kids, I didn't have a lot of fitness. I'd occasionally go to the gym to run on the treadmill or the elliptical, and then maybe some weights, but I really didn't know what I was doing. After my last child, I had a hard time losing the last 10 pounds so I thought I'd run a half marathon to get me into shape. I didn't lose any weight but it lead me into marathon running and triathlons, so I spent a lot of time in the pool and on my bike/spin class. I was never fast but I could just keep on going.
Q: How long have you been doing CrossFit and what inspired you to start?
A:
I started CrossFit around March/April 2011 or 2012 (I can't remember). A friend of mine called to tell me about CrossFit. He had just started and loved it. He told me to research and look it up on YouTube. I didn't have a good enough reason to not give it a try. Plus, with all the endurance and cardio I was doing and not seeing the results I was expecting, I told my friend I'd try it out for 3 months. If I didn't like it I would go back to my normal routine of swim/bike/run. I didn't love CrossFit at first. I always went into the gym a little nervous, but I loved when it was done. And now I just love it all because I see strength and progress.
Q: What have been the most surprising changes in yourself that you have experienced since starting at DogTown?
A:
Since starting DogTown, I think the change that surprises me the most is my willingness to try new physical activities. A couple of years ago, a friend invited me to hike Mt. Whitney in a day. Mt. Whitney is the highest peak in the contiguous US. Round-trip, the climb took us 16 hours and probably the hardest thing I'd ever done, but the summit and view were indescribable. Without any training or preparation, CrossFit allowed me to challenge myself in a way I never would have expected from myself before I started CrossFit.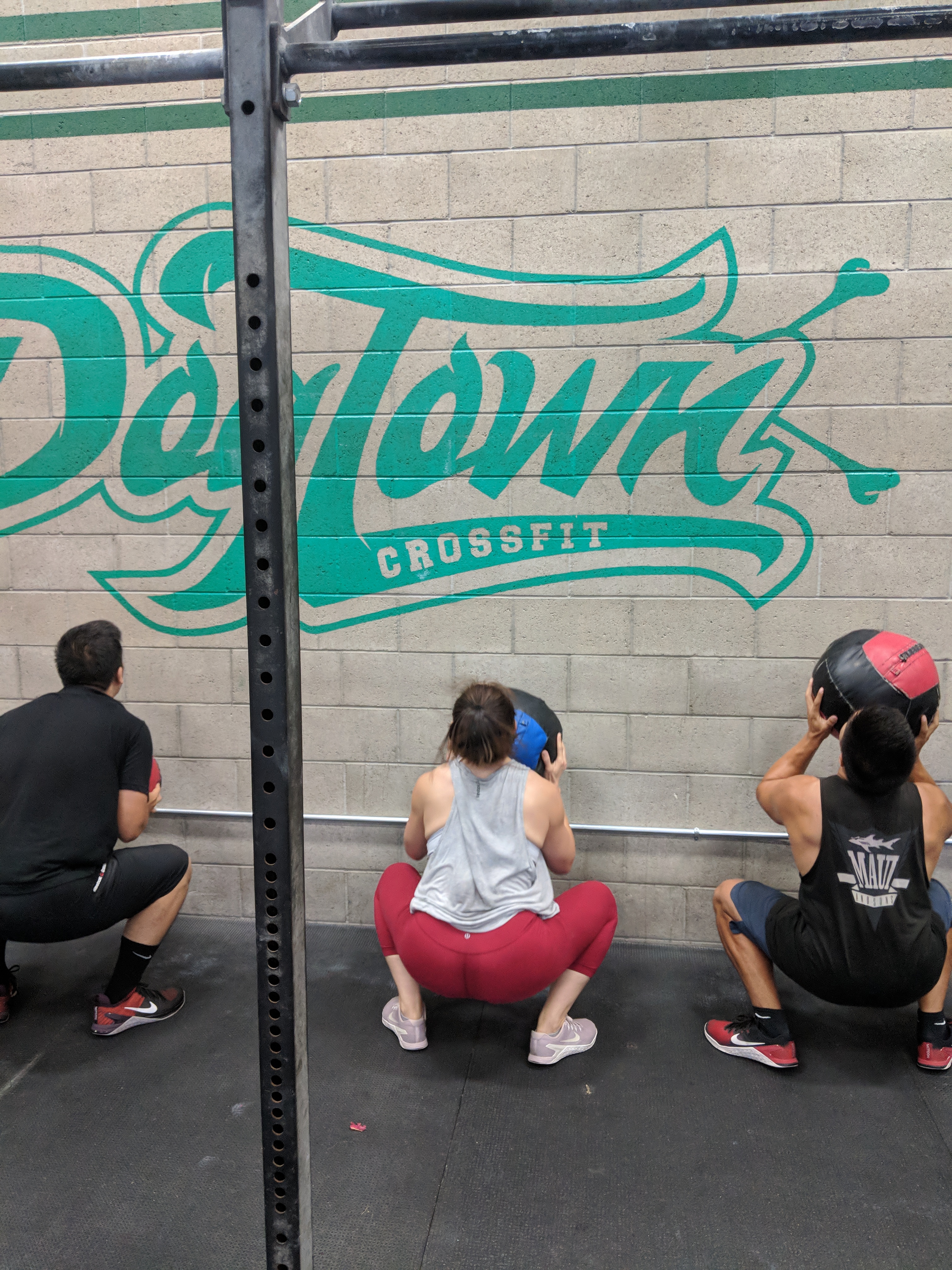 Q: What are your favorite movements and workouts and what are your least favorite?

A: I love movements that include squatting with a barbell, so I particularly love it when there's a workout involving a front squat, back squat or overhead squat. I also love it when we clean (not power), and especially from the hang. My least favorite movements involve anything where I have to hang from the rig, so pull-ups and toes-to-bar.

Q: When you are not at CrossFit, what are you up to?

A: When I'm not at CrossFit, I'm usually busy with my family and getting kids to their appointments/destinations, and household errands. But lately and more excitingly, my husband and I bought a local business so we've been busy growing the store and building a brand. And since we both work, the new business has been consuming most of our free time. But I believe anything you own is worth the time invested.

Q: What are your CrossFit goals?

A: I don't necessarily have any CrossFit goals. I just want to get better, faster, stronger. I realize as I age that there will be diminishing returns on my efforts, so the goal is to stay strong in order to live an independent lifestyle in my retirement years…just planning ahead.

Q: Working out in the morning takes serious dedication. What motivates you the most to not hit snooze?

A: My evenings are committed to being a mom. I've tried doing other group classes after work, but it just eats into my family time. And since I work, that leaves only the mornings to workout. Mornings are consistent so I shouldn't have a reason to miss class. Earlier in my CrossFit journey, I was going to class pretty regularly, but I found myself cherry-picking the workouts because there was movement I didn't particularly like. Then about 4-5 years ago I made a resolution to myself that if I was well enough to go to work, I was well enough to go to the gym. Since then, there's probably only been a small handful of times that I've missed class to get a little more needed sleep.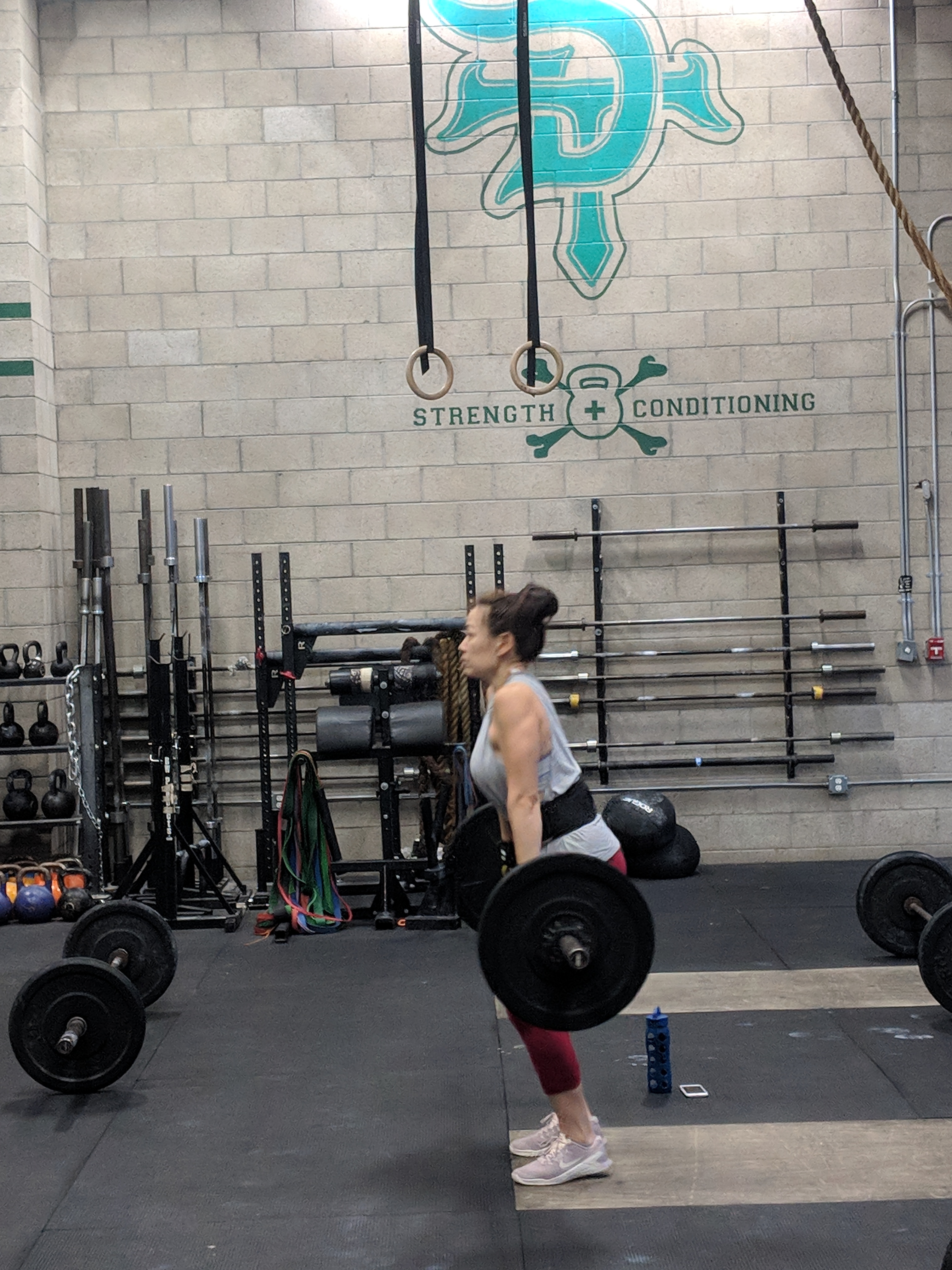 Q: You may not realize but since you are one of the first women each day to do the workouts, you set the bar VERY high with impressive weights and times. What has been your secret sauce to being such a beast?

A: I don't think there's a secret sauce, although I wish there was. There's always someone faster and stronger in class and I'm just trying to keep up. I don't think I'm competitive so I don't strive to finish first. But I definitely don't like to finish last. I think that's what keeps me pushing a little harder.


Q: Any advice you can give to a newbie at DogTown?

A: I think the best advice that I can give to a newbie at DogTown is to just show up. The programming and workouts are planned. You just have to show up and put in good effort to ensure good progress or results. One other thing I'd encourage anyone starting CrossFit is to keep track of their lifts and record their benchmark workout times. I still keep a journal and I love to reflect and look back to see where I've been and how far I've come.

Q: As a mom, what do you hope being committed to your health and fitness will teach your kids?

A: I hope that my kids see my lifestyle and commitment to health and fitness, and good nutrition as a normal lifestyle. When I'm at the gym, I think I'm like everyone else. When I leave the gym, I see myself as more of an anomaly since most people don't exercise and eat out too often. I'm not a great cook, I have my kids help in the kitchen because I think cooking is a good life skill to have. And this summer my son, Nolan, spent the mornings working out with me at DogTown, which I truly loved because it gave us an opportunity to bond. If I show them it's normal to make a meal and to exercise and the importance of being strong and staying strong, I hope as adults they'll create a lifestyle that will incorporate some of my values.

Q: What 2 things can you share with our DogTown family that they may not know about you?

A: I'm not sure I can come up with 2 things about me to share, but one thing I can share is that I love puzzles, especially mega puzzles with 500-1000+ pieces. And I love doing it with my kids because it's a great family activity. When we finish a puzzle, and because we've invested so much time into the puzzles, I could never take them apart. So, if you pull up all the rugs in our home, you'll find almost a dozen puzzles that we've done. Every once in a while, when we lift the rugs, it's always a pleasant surprise to see them.