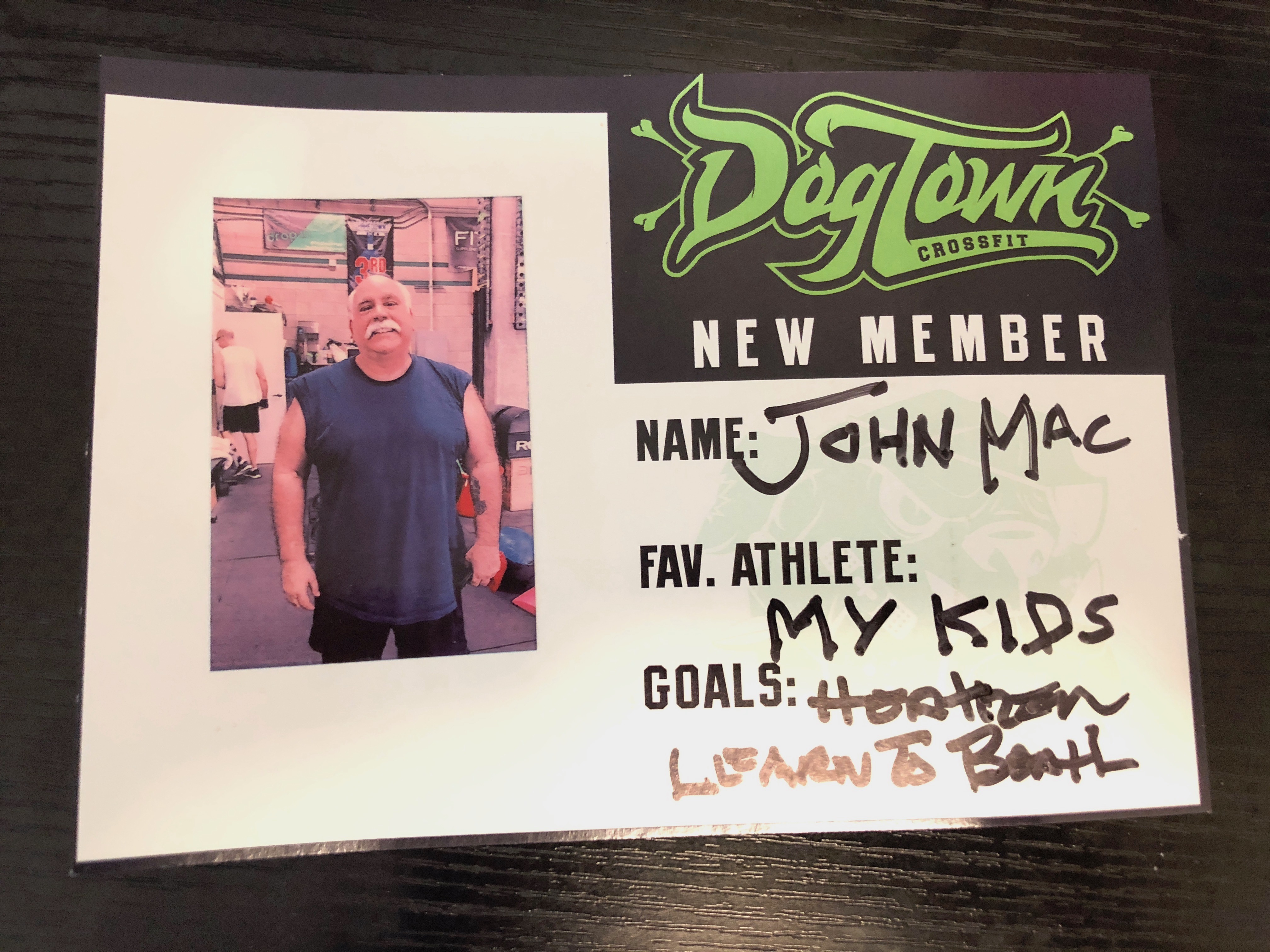 When John reached out to us in November of last year and I then got to meet him in person, I immediately liked his personality. I was excited for him to be the first person to join the Foundations program we were kicking off at 9:30 am on Mondays, Wednesdays and Fridays. At the age of 60, John's fitness goals were pretty clear. Lets lose weight and get in shape. PERIOD.

On Day 1 of Foundations, Kelly and Jeremiah put the crew through their first workout:

4 Rounds of 30 Seconds of Work/30 Seconds of Rest:
Ring Rows
Sit-ups
Squats


John was without question devastated physically from that workout. He laid on the boxes for nearly an hour after the workout. Jeremiah came to me twice worried, saying he should check his vitals (Jeremiah's EMT brain was kicking.) I wasn't worried. What I saw was someone that wanted to get in shape more than he wanted to breathe. That is exactly where John's transformation began.

Over the course of the program, he was the slowest but hardest and most dedicated worker. He showed up early to watch regular class, and he often stayed after to learn, watch and be a part of the gym.
After Foundations was completed, John began one- on- one training with Kelly, and nearly four months later, he has lost 30 pounds and has PR'ed his deadlift at 325 lbs.

We are so proud of John for his journey, and of course sad to lose another gem, as he is set to move to the Bay Area for a well-deserved promotion.

Thanks,
Coach Dusty


John sent us this heartfelt letter that we want to share with our Dogtown Family.


Dear DogTown CrossFit,

Just wanted to share my story regarding how I became a part of the DogTown Family.

I first came across DogTown CrossFit on social media, advertising a six-week program called DogTown Foundations Program. I liked how the program was explained, that it was a stepping stone for new or re-start folks "Like Me"! I also liked how it was explained that the programming wasn't just a random throw together workout, but a purposeful workout and would start with building a solid foundation and adding to it with each session and week so that by the end of the program I would have a solid baseline to grow with. All I had to do was JUST SHOW UP, and let the program work me!

I had shopped around looking at other CrossFit locations and on-line information, but I found that something was missing. I didn't feel what I had felt when reading DogTown's offer of commitment to helping me while I trudged back to a healthier life through each session of their program.

I was sneaking up on sixty feeling sluggish, no energy, overweight and wasn't ready to be like those other old guys with their pushed-out guts and aligning health. The truth is I was already one of those guys.

So, in January 2018, via email I signed up for the DogTown Foundation Program. I was welcomed by Dusty Hyland, and made an appointment to see him and start with my life changing experience. We discussed what I was looking for and what my goals were.


What I really liked was starting with a group of newbies just like myself and a couple of returning patrons, rather than being added to an already established fast paced group and being overwhelmed, feeling set up for failure. The Trainers (Kelly & Jeremiah) were energized; they explained how the workout was broken down, Warm-up, Lift and Metcon. They performed each exercise/movement, discussing the proper way to execute each one prior to the group performing them, exactly what I was looking for.

First day, I was already sucking air by the time I was done with the warm-up and still had to keep going. Kelly and Jeremiah were very understanding, kind and always encouraging, enthusiastic and motivating as was the group- especially when I excused myself to throw-up! What a day that first day was. I hadn't felt that worked in years! When all was done I just laid there on the floor. I really appreciated the support and no rush attitude all the trainers had in letting me take my time to recover. They checked on me, making sure I was going to be alright. Now that was cool and always humorous!

As the sessions continued and the weeks passed I learned the proper way to lift, learned about and performed exercises (Squats, Burpees, Mountain Climbers, Lunges, Box Jumps, just to name a few) I hadn't performed since I was in high school and then some I never heard of. The continuous movement of each routine was amazing and exhausting all wrapped up into 20-minute intervals. Always ending with me on the floor recovering and slowly feeling better, gaining endurance, breathing better which were my beginning goals. The side effects were losing inches, weight, gaining muscle tone/strength and of course feeling muscles I forgot I had. This was just the beginning.

Before I knew it, the program was soon completing, and I would have to decide what my next step was to be. I would come in early prior to my group session to watch trainer Mike V. work the 7:30 group: amazing men and women working at their own levels and working together. They reflected dedication and respect for each other, always encouraging and motivating one another with enthusiasm even when exhausted. They were examples of what I wanted for myself. However, I still felt the need to bring myself along with the help of a trainer and discussed this with Kelly who was available to train me, and I was on my way!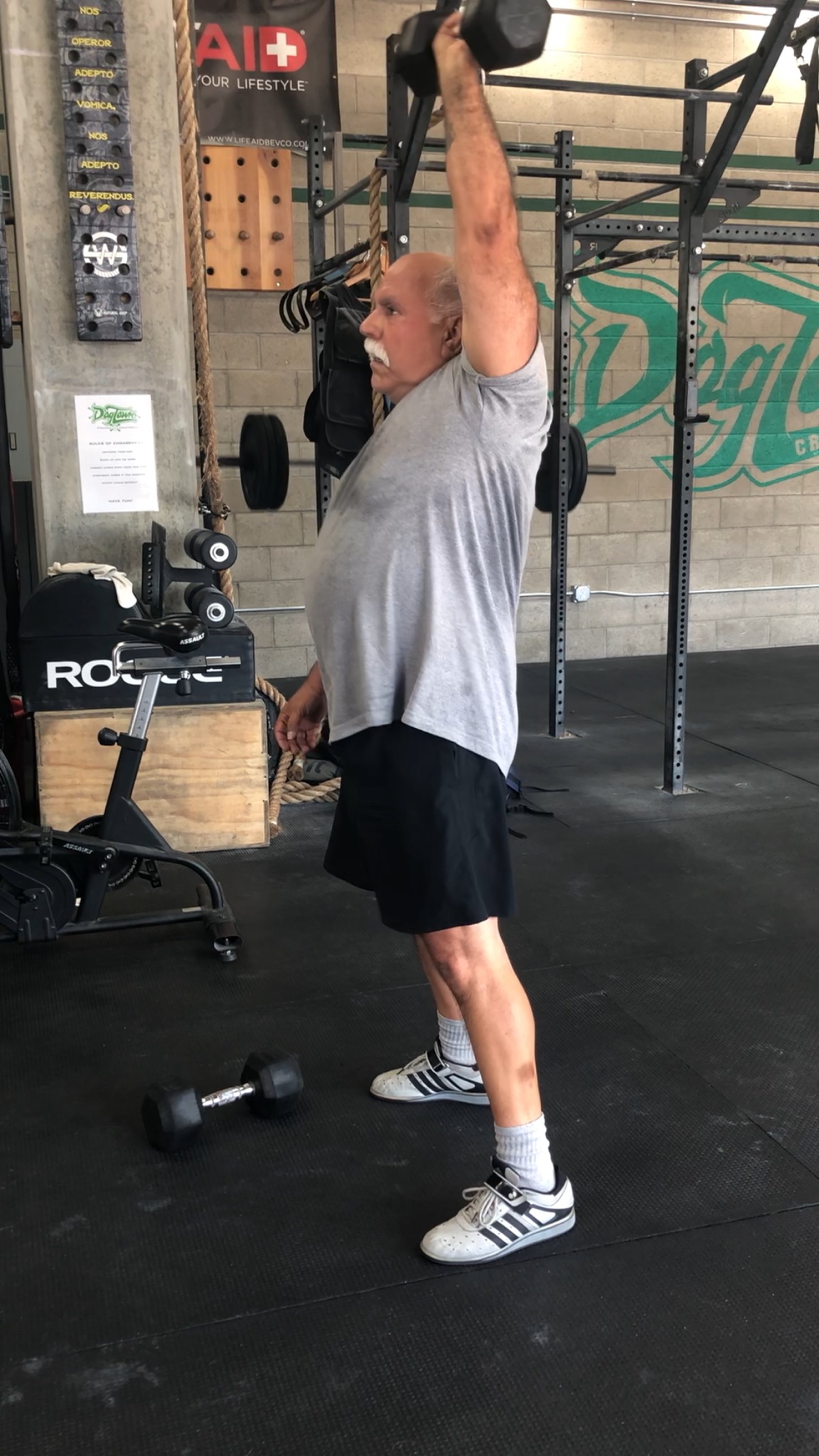 Kelly is so awesome. She is a task master with a glow in her eyes and a smile on her face with an endless supply of enthusiasm, encouragement, motivation, laughter and a drill Sargent discipline for ensuring that I performed the lifts and drills correctly and safely. She really enjoys the lifestyle of CrossFit and her enthusiasm is contagious. I'm grateful and humbled by her honesty and caring attitude.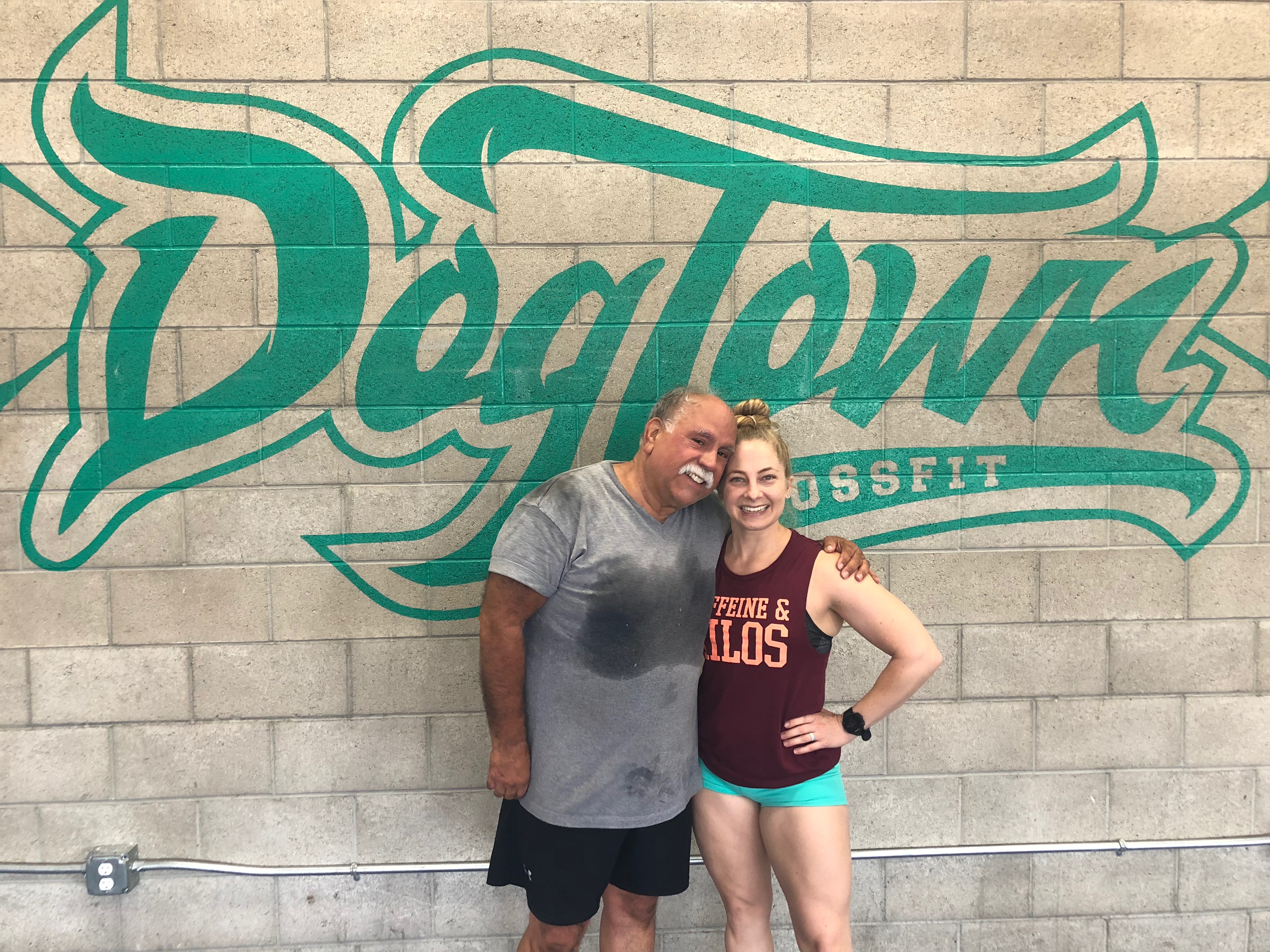 It's been approximately six months of commitment to changing my life for the better I'm no longer that gut hanging sluggish ill health guy. And I couldn't have done any of it without the sincere collectiveness of the DogTown CrossFit Crew.
My friends ask why CrossFit, I reply why not!
Warm regards,
John Macaluso